Kepware System Integrator Training
Digitronik is a Silver Level integrator for Kepware products, and last month I had the pleasure of attending their System Integrator training in Portland, Maine. It was a truly excellent experience, and I left Portland feeling inspired by the product, the company, and the people.
We've all been been to boring training sessions: eight hours of sitting in a grey room listening to an instructor read slides aloud, interrupted only by a sad sandwich platter at noon. After the session ends, drive past strip malls back to the hotel, grab a fast food dinner, and watch TV in your room to finish out the day. Rinse, repeat.
Not in Portland!
The crew at Kepware are fellow city dwellers, with a hip, modern office space right in the middle of downtown. I could walk from my Airbnb to Kepware in about 15 minutes, passing a variety of great options for dinner and a pint of local craft beer on the way home later.
For lunch, we went out as a group and had some great meals in the city. One night, they took us out after class for an unforgettable meal at a posh hotel restaurant. They were even kind enough to invite my wife Lynn along. The whole team at Kepware was really top notch.
Besides eating our way around a new city, I learned a ton about Kepware's products during the three-day training. KepserverEX, their flagship product, has so many useful features that it would be impossible to learn them all any other way. Simulation and two-way database connectivity are at the top of my list. I'm already planning some new applications and demos using our integrator license.
I also got to see Thingworx, an IoT application platform from Kepware's parent company, PTC. When they acquired Kepware last year, integration between Kepserver and Thingworx got even tighter, and the results are impressive. The brand new pre-built manufacturing app suite provides a great baseline upon which to build a fully-featured asset management system, production monitoring system, or MES/MOM/CMMS if you prefer acronyms. I'm looking forward to exploring the potential of these!
During our tour of Kepware's offices, I met more nice people and saw some neat workspaces and amenities, but nothing was as impressive as the test equipment room shown below.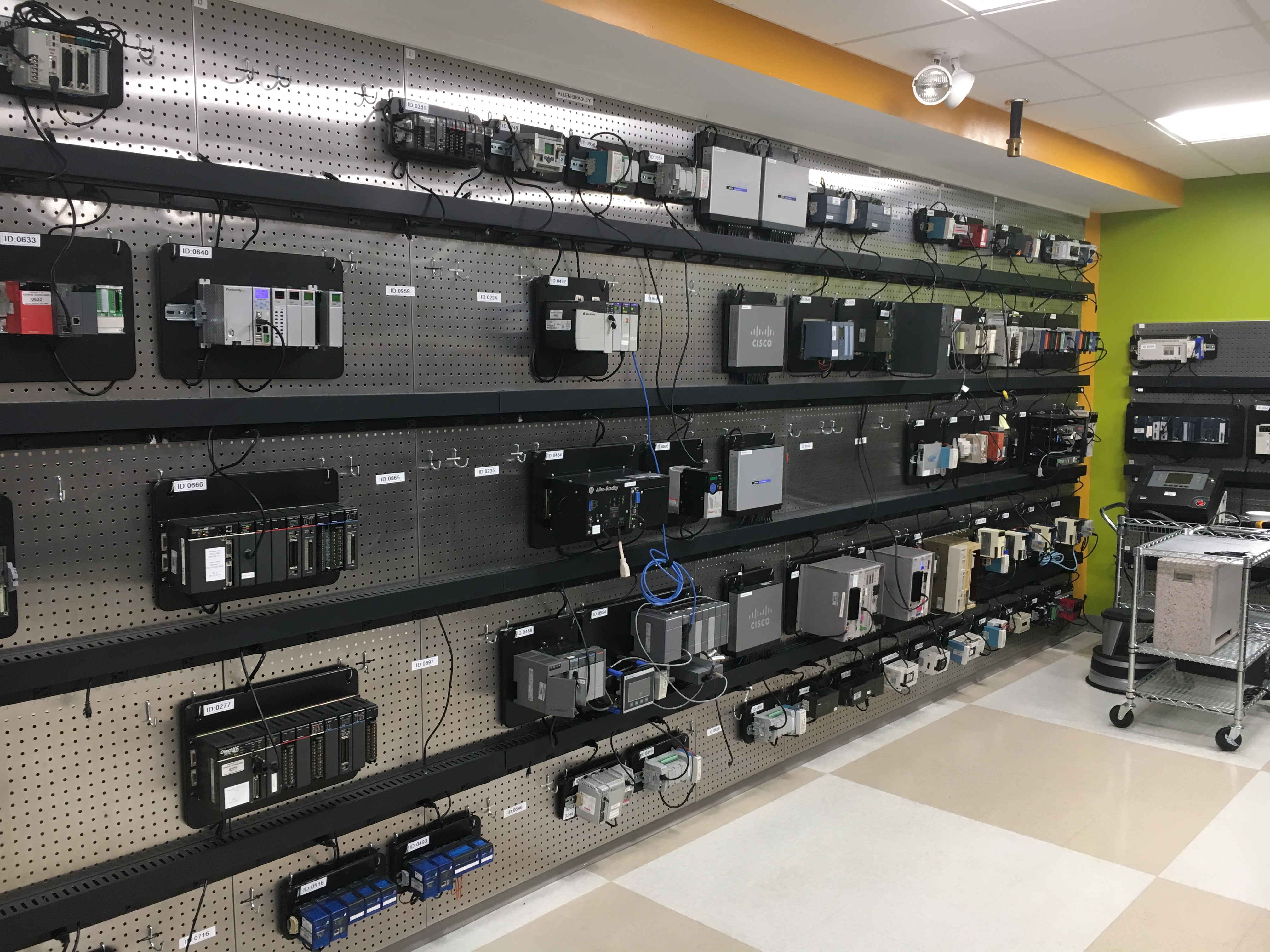 Every single brand and family of PLC, HMI, DCS, VFD, etc. you've ever heard of, and more, is mounted on the walls of this room. Each device is connected to the engineering network for the developers to run integration and regression tests. It was extremely impressive and made me more than a little jealous.
After the training concluded on Thursday, Lynn and I said goodbye to Portland and continued east to Acadia National Park. While this wasn't on my official work itinerary, we couldn't pass up the chance to see one of the country's premier national parks, and it didn't disappoint! We enjoyed some hiking, sight-seeing and shopping in Bar Harbor, and of course ate a lot more great food. (Three lobster rolls in one day? Let's do it!)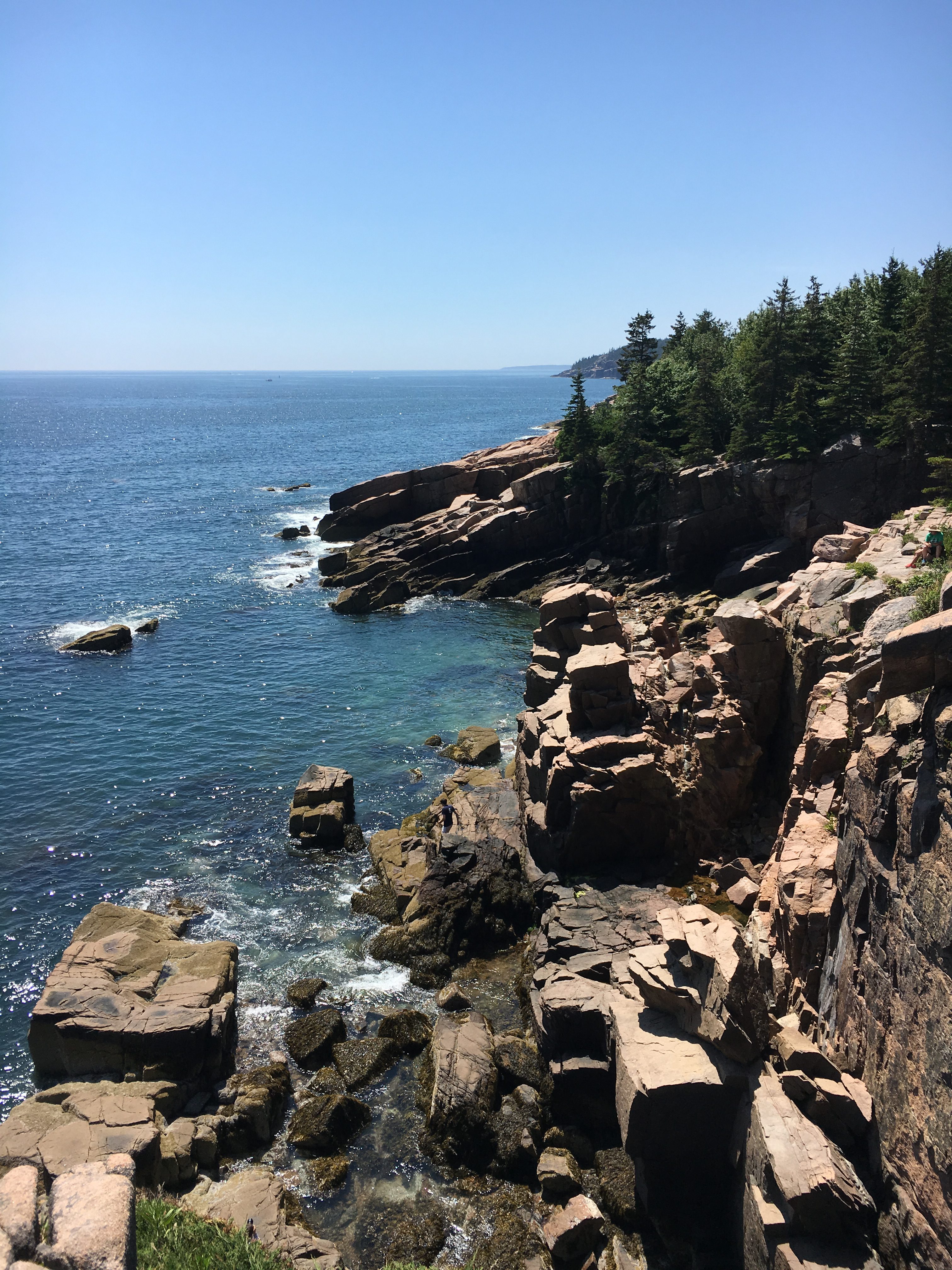 In Acadia, I had one last work-related encounter. The park has a great public bus system, and after clambering aboard for our first ride, I noticed a familiar device mounted up by the bus driver: a Mobile Data Terminal from our friends at Avail Technologies. It turns out that the bus we were riding used software that I had helped write back in 2011! It was actually my first time on a bus with the system deployed, so I was proud and excited to see it in action. Between the in-vehicle announcements and the mobile app that let us know when the next bus would arrive, we were super impressed with the experience.
Thanks to everyone at Kepware for a great training experience and warm hospitality! I hope to visit your city again some day.